Introduction
The Internet is fast becoming the busiest business district the world has ever known. But having a web site should be more than reproducing existing advertising. It means taking full advantage of the Internet's capability of interactive shopping and global convenient access. It is the perfect showcase for people to obtain information about your company and products, an efficient way of communicating with your present clients, potential customers and especially serves as a international marketplace to sell your products and services.
Your web site will provide an economical means of making your product catalog available to the world. Customers can browse through your offerings at their own pace, and place orders quickly and privately with their credit card 24 hours a day. A secure server receives the order, validates and processes the credit card transaction, and passes the information along to your shipping department via e-mail.
---
Who is Active Media Group
"Our goal is to design a robust site that loads fast,
is compatible with all browsers and
compelling enough to keep visitors coming back."
Active Media Group creates high-end custom web site solutions. Production typically involves elaborate programming combined with industry-leading design and animation.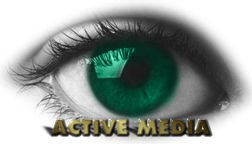 When choosing a web designer, the most important aspect is the look and feel of the site. Active Media Group will work with you to design a site that reflects the outlook and philosophy of your company and artistically displays your products and services. The technology of the web and HTML will be seamlessly integrated within the site and not overwhelm the user.
We are connected to the internet via a T-3 backbone. Our server performs well even during peak times. Our goal is to design a robust site that loads fast (even on slower connections), is compatible with all browsers and compelling enough to keep visitors coming back. All this while accomplishing your business goals and objectives. In this case to showcasing your products and company on-line. Our experience developing and designing web sites makes us confident that we can deliver a functional site that will exceed your expectations. You can see some examples of our work at http://www.active-media.com/sites.html .
NEXT PAGE
Contact: Active Media Group